<! default font> <! ----------------------------------------------------------------------> [Back to SMPS Page]

<! ----------------------------------------------------------------------> www.RomanBlack.com <! ---------------------------------------------------------------------->

<! ----------------------------------------------------------------------> The 3-transistor Black regulator! <! ---------------------------------------------------------------------->

<! ----------------------------------------------------------------------> App a04; +12v output, high efficiency + current limited <! ---------------------------------------------------------------------->


<! ----------------------------------------------------------------------> Specs <! ---------------------------------------------------------------------->


90% efficiency (from 70mA to 400mA out)
Very cheap circuit (about 80 cents in parts)
Good voltage regulation
Good current limiting!
Continuous short circuit (or over-current) capability!
Input: 22v to 30v
Output: 12.5v @ 450mA maximum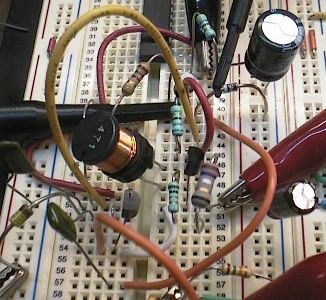 <! ----------------------------------------------------------------------> The Circuit <! ---------------------------------------------------------------------->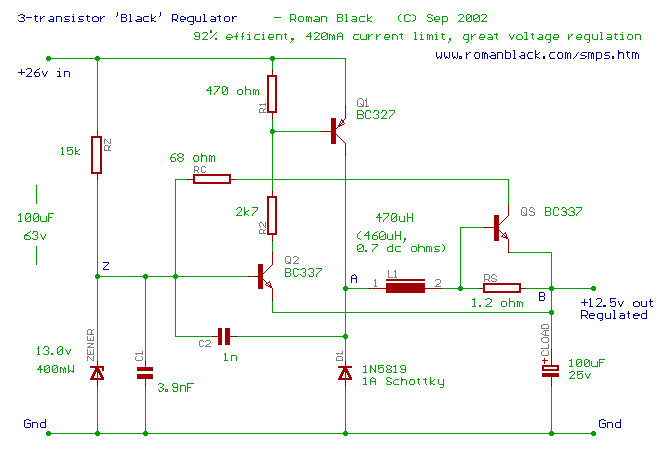 +26v -------*-----------------*--------,
            |                 |        |  Q1
            |        470 ohm  R1       |  PNP
            |                 |        E  BC327
      15k   R1                *------B
            |                 |        C               (measured;)
            |                 |        |   L1 = 470uH  (460uH, 0.7 dc ohms)       
            |      68 ohm     |        |         
            |    ,---RC------------------------------,
            |    |            |        |             |     NPN
            |    |            |        |             C  QS BC337
            |    |       2k7  R2       |       ,---B     
            |    |            |        |       |     E---,
  |         |    |  Q2        |        |       |         |
 100uF      |    |  NPN BC337 |        *---L1--*---RS----*---- +12.5v out
 63v        |    |            C        |        1.4 ohm  |
  |         *----*----*-----B          |                 |
            |    |    |       E--------------------------*
            |    |    |                |                 |
            |    |    |                |                 |
            |    |    '------C2--------*                 |
     zener  |    |          1nF        |                 | 100uF
      ZD1   -    |                     -                 C  25v
    13.0v   ^    C1                    ^ D1  1A          |
    400mW   |    |                     | schottky        |
            |    | 3.9nF               | 1N5819          |
            |    |                     |                 |
Gnd --------*----*---------------------*-----------------*---- Gnd

(these are the actual parts values as used in the test, as
well as a 100uF cap on the power input)


<! ----------------------------------------------------------------------> Chart <! ---------------------------------------------------------------------->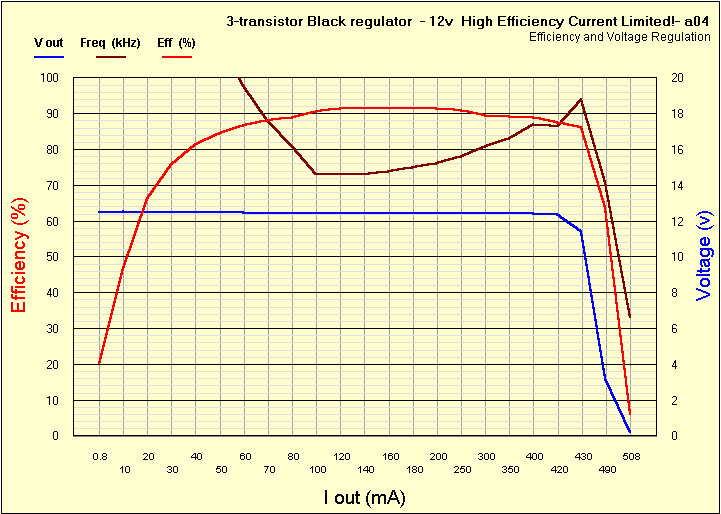 <! ----------------------------------------------------------------------> Test Data <! ---------------------------------------------------------------------->

   V in   I in     P in     V out    I out    P out    Freq    I gain    Eff (%)
   26v     1.9mA   0.0494w   12.50v    0.8mA  0.0100w    chaos   0.42     20.2%
   26      10.3    0.2678    12.54     10     0.1254     219kHz  0.97     46.8
   26      14.5    0.3770    12.51     20     0.2502     178     1.38     66.4
   26      19.0    0.4940    12.49     30     0.3747     148     1.58     75.9
   26      23.6    0.6136    12.48     40     0.4992     126     1.69     81.4
   26      28.4    0.7384    12.47     50     0.6235     110     1.76     84.4
   26      33.2    0.8632    12.46     60     0.7476     98      1.81     86.6
   26      38.0    0.9880    12.45     70     0.8715     88      1.84     88.2
   26      43.0    1.1180    12.44     80     0.9952     81      1.86     89.0
   26      52.8    1.3728    12.43     100    1.2430     73      1.89     90.5
   26      62.8    1.6328    12.43     120    1.4916     73      1.91     91.4
   26      73.2    1.9032    12.43     140    1.7402     73      1.91     91.4
   26      83.5    2.1710    12.43     160    1.9888     74      1.92     91.6
   26      94.1    2.4466    12.43     180    2.2374     75      1.91     91.4
   26      104.4   2.7144    12.43     200    2.4860     76      1.92     91.6
   26      131.4   3.4164    12.43     250    3.1075     78      1.90     91.0
   26      160.4   4.1704    12.43     300    3.7290     81      1.87     89.4
   26      187.5   4.8750    12.43     350    4.3505     83      1.87     89.2
   26      215.0   5.5900    12.42     400    4.9680     87      1.86     88.9
   26      228.0   5.9280    12.35     420    5.1870    86.5     1.84     87.5
   26      220.0   5.7200    11.45     430    4.9235     94      1.95     86.1
   26      81.5    2.1190    3.22      500    1.6100    63.4     6.13     76.0
   26      38.2    0.9932    0.17      508    0.0864    32.3     13.30     8.7


<! ----------------------------------------------------------------------> Notes <! ---------------------------------------------------------------------->

Current limiting is provided by 3 extra parts; QS, RS and RC.

The current limit point is set by the value of RS;
5.6 ohm = 105 mA
3.3 ohm = 180 mA
2.7 ohm = 215 mA
2.2 ohm = 270 mA
1.8 ohm = 330 mA
1.5 ohm = 390 mA
1.4 ohm = 420 mA (the chart results shown here)

This circuit is ideal for a high-efficiency 24v to 12v battery charger because it is output current limited. It is also ideal for a "12v battery maintainer" in a solar system to efficiently keep a 12v battery charged from the main 24v batteries. If driving a 12v battery you need to change the zener ZD1 to 14.3v so the output voltage is 13.8v.

This circuit will run continuously and safely into a short circuit load. The last row of the test results was operating into a 10A ammeter, basically a short circuit.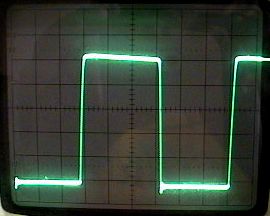 Q1 collector; 12.35v out, @ 420mA, 87kHz, 87.5% efficiency (1 div =5v)
Note! This is right before the current limiting kicks in.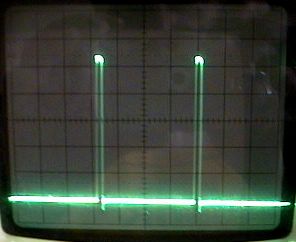 Q1 collector; 0.17v out, @ 508mA, 32kHz, short circuit output! (1 div =5v)
Into overloads and short circuit outputs the regulator slows its switching speed down, radically reduces pulse width, and still switches cleanly and efficiently. With smps chips this is usually called "discontinuous mode" and gives cool safe running into fault loads.


<! ----------------------------------------------------------------------> Parts List <! ---------------------------------------------------------------------->


Transistor	Q1	TO92		BC327		10c
Transistor	Q2	TO92		BC337		7c
Transistor	QS	TO92		BC337		7c

Inductor	L1	0.7ohm		470uH		50c
Schottky Diode	D1	1A		1N5819		20c

Zener Diode	Z1	400mW		13.0v		6c

Capacitor	C1	polyester	1nF		5c
Capacitor	C2	polyester	3.9nF		5c
Capacitor	CL	25v electro	100uF		10c
Capacitor	CS	63v electro	100uF		15c

Resistor	RZ	1/4w		15k		2c
Resistor	R1	1/4w		1k		2c
Resistor	R2	1/4w		2k7		2c
Resistor	RS	1/4w		1.2 ohm		2c
Resistor	RC	1/4w		68 ohm		2c
TOTAL						    $1.45 AUD
				 (in US dollars:    $0.80 USD )


<! ----------------------------------------------------------------------> <! ----------------------------------------------------------------------> - end -

[Back to Home Page]